Written by:

Kamran Mofid

Hits: 18775
(Updated on Thursday 14 March 2023)
Norouz is a message of hope, beauty, wisdom, peace, friendship, benevolence, justice for humankind and admiration for nature and an occasion for rethinking, restarting and remaking.
Photo:UNESCO
'In my heart you are the mirthful ray
You are the caring, though my companions they
Happy is the world with the Noruz and with the Eid
You are both my Eid and my Noruz today'
اندر دل من مها دل افروز توئي
ياران هستند ليك دلسوز توئي
شادند جهانيان به نوروز و به عيد
'عيد من و نوروز من امروز توئي
Jalāl ad-Dīn Mohammad Rumi جلال‌الدین محمد رومی
The World in Crisis and Mother Nature in Pain:The Hopeful and Healing Message of the Persian New Year (Norouz)
Written by:

Kamran Mofid

Hits: 274
'We cannot change the past, but we can change our attitude toward it. Uproot guilt and plant forgiveness.
Tear out arrogance and seed humility. Exchange love for hate --- thereby, making the present comfortable and the future promising.'

- Maya Angelou
Beyond the Agony and Hatred, Destruction and Pain, There is Always Hope
On the 1st Anniversary of the war in Ukraine, it is right first and foremost to express our sympathy to those wounded in or bereaved by War. We also give thanks for those who sacrificed or risked their lives for others and for those who labour for reconciliation amongst nations and peoples. Blessed are those who are peacemakers.
Nota bene
The Best Way to Honour the Victims of the War in Ukraine is: 'To transform each one of us into builders of Peace.'- Europe for Peace
From time immemorial, humanity, it seems, has not learned an iota about the stupidity and absurdity of war and its horrors. War is nothing but a folly, lest we forget, again and again.
All Wars are Acts of Savagery
All Wars are Acts of Barbarism
'Let the horror in the Ukraine open our eyes to the suffering of war around the world.'
Remembering the Victims of All Wars
Written by:

Kamran Mofid

Hits: 219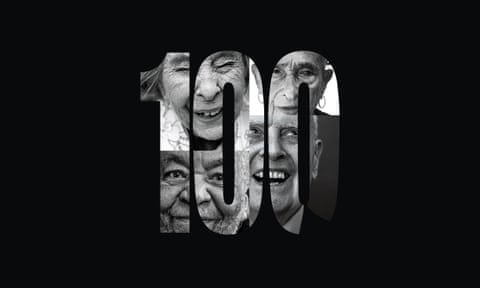 Clockwise from top: Angela Redgrave, 105; Stella Armour, 103; Colin Bell 101; and Edmund W Gordon, 101.
Composite: Kelly-Ann Bobb, Harry Borden, Chris Buck/The Guardian
'Keep your eyes open – and leap into the future': 100 centenarians' 100 tips for a life well Lived
What's the secret to making it into triple figures? Never stay stuck in the past, keep a diary … and dance while you still can.
N.B. This is truly a beautiful, rewarding and inspiring survey, by the Guardian's Saturday Magazine and published on Saturday 18 February 2023. A document on our humanity, life, and values. It gives simple but profound answers to who we are, why we are and what is the purpose of this journey we call life.Thank you Guardian for initiating this survey and thank you to all those who responded. I hope, somehow, this will be brought to the attention of all the young people the world over. This document is indeed a window on the University of Life.