The first Elizabethan era ended on March 24, 1603, when 69-year-old Queen Elizabeth I died in her sleep at Richmond Palace.
The second Elizabethan era ended on September 8, 2022, when 96-year-old Queen Elizabeth II died at Balmoral Castle in Aberdeenshire, Scotland.
'At home and on the world stage, the Queen served with grace and unfailing duty. Now her son must rise to the challenge.
'The UK is struggling to understand its place in the modern world at a time of great global instability and after the hugely consequential decision to leave the European Union. The very integrity of the United Kingdom remains in question as the campaign for Scottish independence continues to press for another referendum.
'It is a difficult time for Britons to lose a Queen who was loved and cherished by people of all generations and it is a difficult time for her eldest son to assume her mantle. It is only right to wish him strength, courage and good fortune for the years of public duty that lie ahead.'- Observer editorial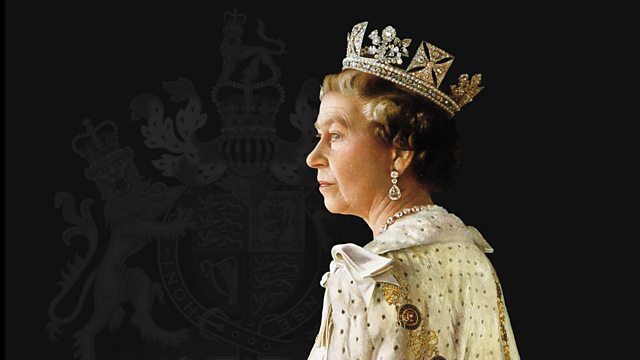 Photo: BBC World Service
'Elizabeth, who died on September 8th at ninety-six, led a life made up of privilege and sacrifice, and even those who resented the former acknowledged the latter.'- Rebecca Mead, The New Yorker
'Queen Elizabeth II died yesterday at the age of 96. She was the longest-reigning monarch in British history, and the presiding figure over a period of profound change. Almost nobody alive remembers a world without her.
'While the accession of King Charles III will naturally be viewed by some as a moment to examine the constitutional question of how Britain should best be ruled, few extend their view of the institution to a woman who has been a touchstone of stability and comfort in an era of turbulence.
'She viewed her life as defined by service. In her silver jubilee message in 1977, she said: "When I was 21, I pledged my life to the service of our people, and asked for God's help to make that vow. Although that vow was made in my salad days, when I was green in judgement, I do not regret nor retract one word of it.
'It is hard to read Stephen Bates' remarkable obituary and not conclude that however surreal and anachronistic the machinery around the Queen could appear, the person at the centre of it was a figure of profound importance whose centrality to Britain's sense of itself, for good or ill, never really went away.
'Bates writes that the Queen "was an integral part of the country and its institutions: one of the best-known women and national leaders in the world, photographed, painted, filmed, depicted, lauded – and occasionally ridiculed – from the time she became heir to the throne, at the age of 10, in 1936, to the end of her life".
'Her most remarkable feat, he says, was to "remain largely unknown – and unknowable": "Even devoted monarchists knew of her only at second hand, as a cipher, a still, small, largely silent, smiling figure, bound by her sense of duty and service, surrounded by turmoil and hubbub."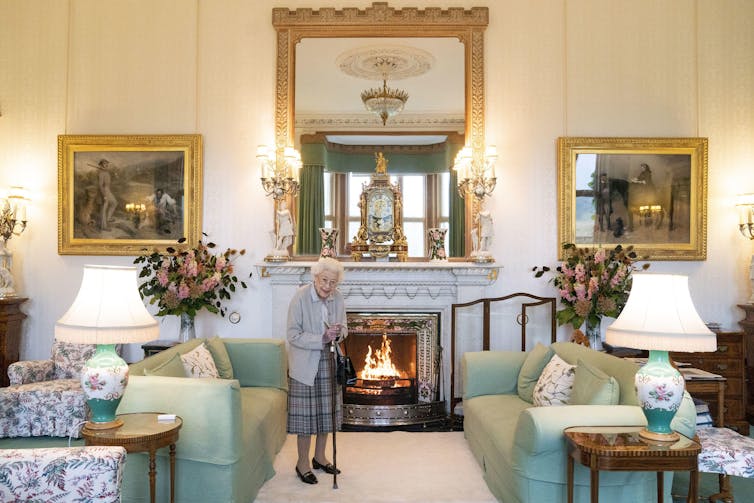 Queen Elizabeth in her drawing room in Balmoral waiting to swear in Liz Truss as prime minister, September 6 2022.
Jane Barlow/PA Images/Alamy Stock Photo
Queen Elizabeth II, Britain's longest-reigning monarch, dies aged 96
World leaders pay tribute after death of Queen Elizabeth II
The life of Queen Elizabeth II – a timeline
The Reign of Queen Elizabeth II Has Ended
'You needn't be an ardent monarchist to find the artefacts of her life fascinating, and moving – a history of a single woman which also stands as one version of the history of her era. This selection of pictures shows her at every stage from a toddler in 1927 to the last published picture of her, taken at Balmoral when she met Truss earlier this week. This video of the Queen in her own words captures how utterly public she was bound to be, the haziness of the line between her own crises and those of the nation, and her defining sense of duty.
'The Queen also had a sense of humour: this video captures some of it, from offhand quips with world leaders to sketches with Paddington and Daniel Craig. This anecdote about a meeting with two American tourists, from former royal protection officer Richard Griffin, has been doing the rounds on social media – and it's well worth 90 seconds.'--Excerpts from The First Edition, The Guardian 9 September 22 (Archie Bland)

And now a personal note on how a very important question by HM the Queen to my fellow academic economists at the London School of Economics (LSE) galvanised my vision on what ethical economics is and why I should continue and pursue the values-led teaching of it.
I can explain this no better than by recalling a few excerpts from a lecture I gave myself at the LSE on 20 May 2015:
…'Ladies and Gentlemen, Friends, why am I saying all these?
Because tonight I am delivering this lecture, at LSE, a prestigious, learned centre for the study of economics. I salute many great economists, past and present at LSE. I acknowledge their contribution to a better understanding of this subject, and for their contributions to build a better world. Equally, I salute many students, past and present, who have, and still wish, to change the world for the better.
Having said and acknowledged the above, there are two points that I wish to share with you, as they are important to the core of my presentation: namely, if we wish to build a world for the common good, then, we need to direct the teaching of economics towards the common good too.
1- Let me quote you the first paragraph of a letter I wrote to Her Majesty Queen Elizabeth II on 27th November 2008, regarding her question at London School of Economics, when she asked: "Why did nobody notice?"
Your Majesty,
I note, with much interest, Your Majesty's recent visit to the London School of Economics. Given the current financial calamity, Your Majesty asked a very pertinent and important question: "Why did nobody notice?"
I firmly believe that the director of research and his colleagues present there, should have provided Your Majesty with truthful and honest answers. However, given what I have read in the press, I do not believe this was the case. Their failure to do so, clearly goes a long way to prove the detachment of economists and the modern neo-liberal economics from the real world. They have turned our profession and subject into a comedy of errors, a dismal science of irrelevance.
This is very sad indeed, Your Majesty. An entire profession now appears to have suffered a collapse. Trust and confidence in my profession has all but been demolished, the "dismal science" at its worst.
Many mistakes have been made. Many economists have compromised themselves and their profession by remaining silent, not criticising the extremism and the neo-liberal fundamentalism present in their profession. Lessons should be learnt, someone should be held accountable. Otherwise the same mistakes will be repeated and nobody will believe what an economist says again. In other words, Your Majesty deserves a proper and honest answer…-Economics, Globalisation and the Common Good: A Lecture at London School of Economics
'How will Queen Elizabeth II be remembered? In the 1950s, there was talk of a "new Elizabethan" era. But there have been too many historical events in the late 20th and early 21st centuries that overshadowed the queen's understated influence. Through all these changes, however, the queen remained a widely respected and admired figure. At a time when there are fewer reigning houses in the world than ever before, her biggest legacy may well be ushering the monarchy into the 21st century.'-A royal historian explains the legacy of Queen Elizabeth II
King Charles III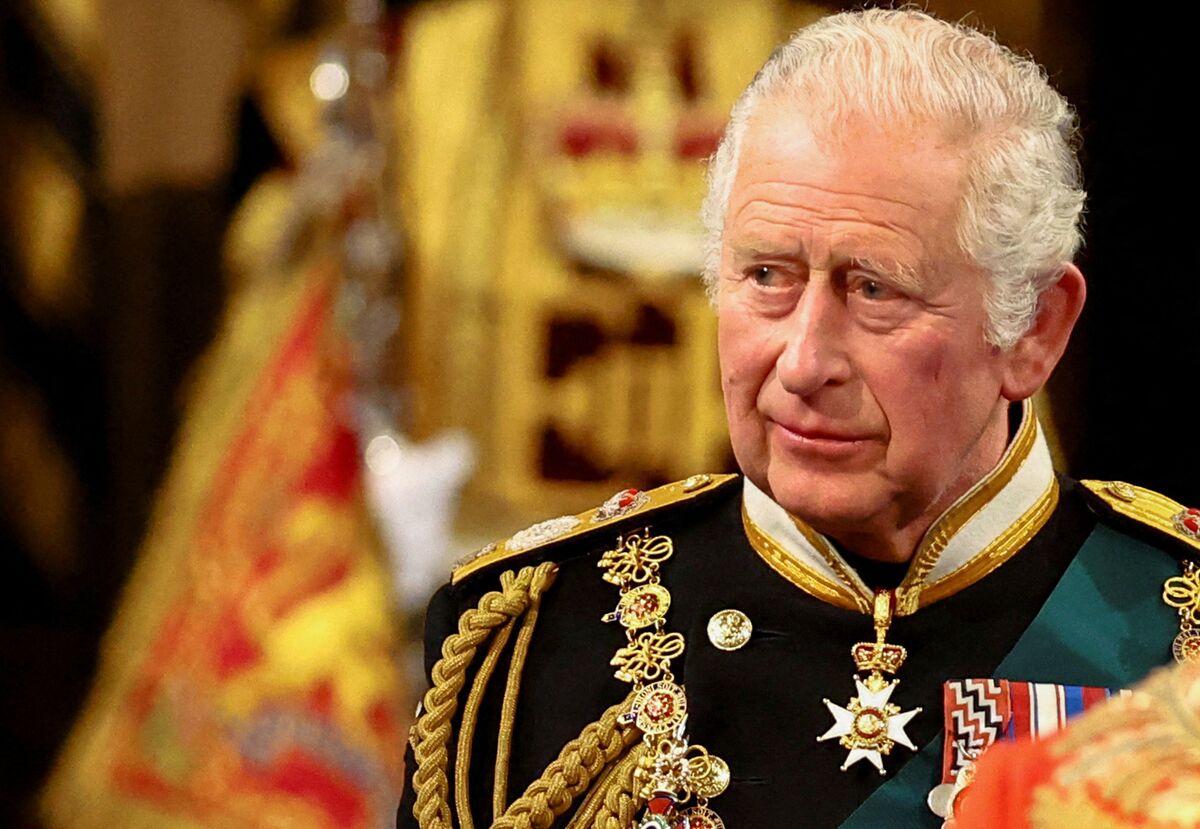 Photo:Hannah McKay/AFP/Getty Images
Finally, I am delighted that our new monarch, King Charles III, is a truly committed environmentalist, eco-warrior, who has always championed sustainable development.
Unlike the politicians the world over, King Charles has spent his life developing deep thoughts about sustainability, organic farming, biodiversity — the sanctity of Nature and Mother Earth.
"After billions of years of evolution, nature is our best teacher," the then Prince of Wales said in his address at COP26 in Glasgow in 2021, "In this regard, restoring natural capital, accelerating nature-based solutions and leveraging the circular bio-economy will be vital to our efforts."
Photo: Daily Mail
Prince Charles urges the world to act on climate change: 'Nature is our best teacher.'
Good on you Prince Charles, I very much liked what you said
Hope and Humanity to Save Our Mother Earth and Nature, History Will Judge the Complicit
The Observer view on the huge task facing King Charles III to help the UK secure its place in the world
I am sure that King Charles will have an enormous impact on the political leaders through his power of persuasion, showing them the path to what socially responsible leadership looks like and encouraging them to take positive actions to heal our sacred mother of earth and nature.